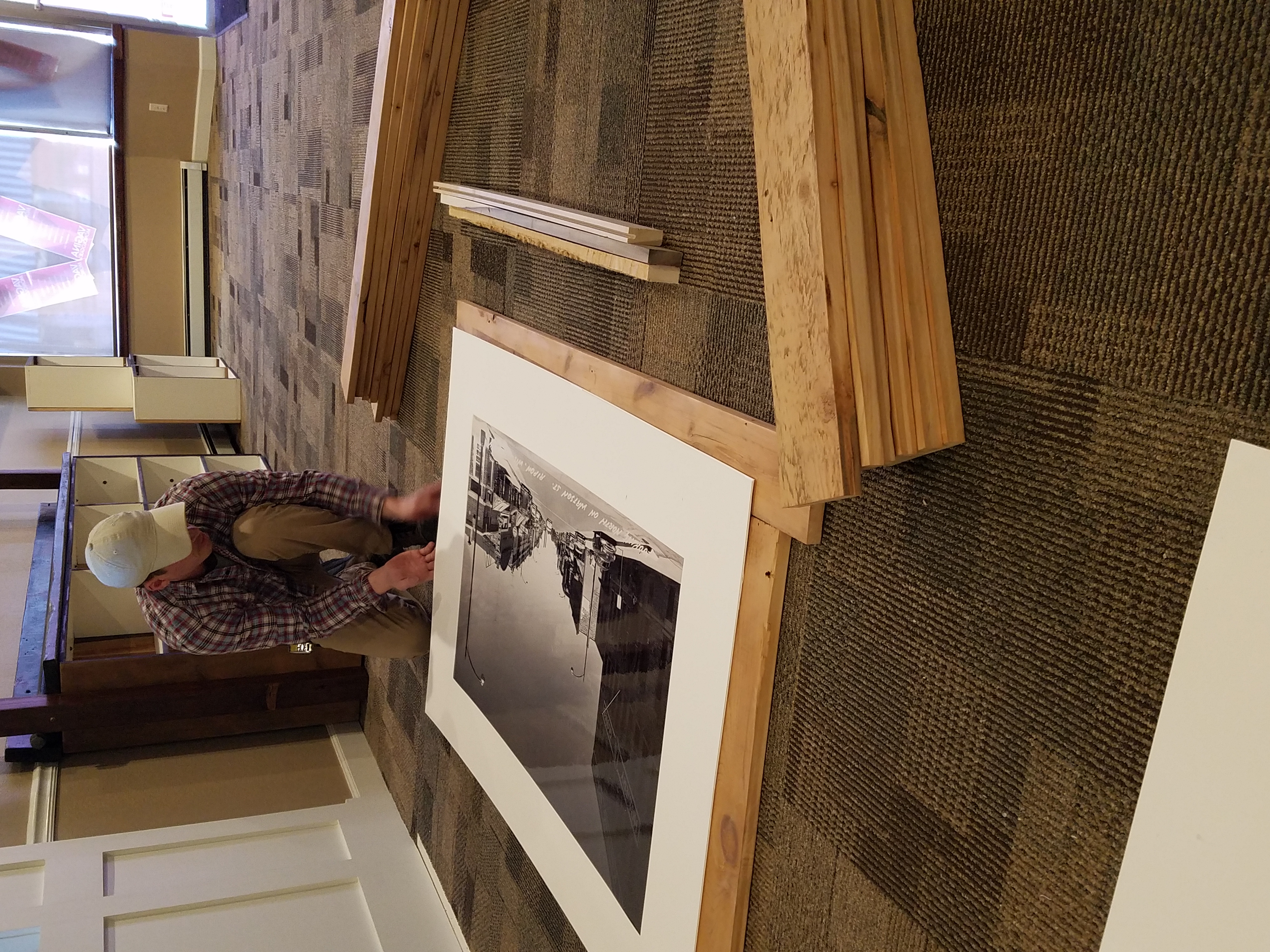 By Lauren Hince
Timothy Bachleitner, 37, carries a large pile of wood into the room. He was called in for a last-minute job from Ripon College, and wants to make sure the job is done well. He begins laying the thin pieces of wood onto a table with help from his young daughter, who holds the door. After he is done, he wipes off his hands and takes a seat at the big wooden bar, that he also helped create.
"It all started with this email from Josh Schubring '18," Bachleitner said as he pulls out his iphone to check for the email. "There was a link to all these crazy Pinterest ideas, which was great. I was so excited. My response was what a great email to read! I would absolutely love to be part of the project."
That project was to create permanent fixtures for the new downtown space, Bovay's Study Bar and Mercantile. Bachleitner had done work previously for other businesses in Ripon, like Mugs where he designed the wooden merchandise shelf.
After accepting the offer with Ripon, Bachleitner started off his project by looking for reclaimed wood. It is this part that makes his projects unique.
"I am always confident that we will discover a piece of wood that has a story," says Bachleitner smiling.
After several weeks of searching, he found just what he was looking for at St. Mary's Spring Academy in Fond Du Lac, WI.
"We were given this donation of desks and old podiums… they were unwanted, some with severe water stains," says Bachleitner as he points to the wall behind him, "The shelves on the wall were made of shelves in a classroom closet." He picks at a water mark on the bar, "The bar top is an old teacher's desk. I can even envision an apple sitting right here."
Bachleitner's mission is to find and reuse wood that has been left or forgotten. He calls it 'harvesting,' and likes to ensures that every piece has a story behind it. "We take unusable pieces of wood, and we harvest it just like you would crops from a field. If something is all busted up, it doesn't matter," he said. "We are able to identify the good pieces. It's like a head of lettuce, you take off all the bad stuff to get to the good stuff."
This same philosophy applies to the students Bachleitner works with. Bachleitner runs a trade school, located in Ripon, where he mentors young members of the community in woodworking and missionary work. The trade school is called The James House and has been around for a little less than three years.
"We mentor young people that don't have a lot of opportunity, the ones that are forgotten like our wood. They are a little bit troubled. We work with them, build a relationship, mentor them. We give them work ethic, character, training and try and give them compensation," said Bachleitner as his face lights up.
For Bovay's, Bachleitner wasn't the only one working on the project. He enlisted the help of two young Marines. Bachleitner explains one had just returned home from Afghanistan and was suffering through PTSD.
Bachleitner added, "Every morning we are able to pray together and every morning we are able to talk and we were able to steer his future. Now he is off to Louisiana."
For the other marine, Bachleitner was able to offer him a permanent spot on the trade school's staff: "His work-ethic, his character and the way the two of us work together; we were able to offer him a job."
Timothy Bachleitner leans his body against the bar and relaxes into his stool. He looks around the room, and admits he is proud of how the space turned out; especially considering he is self-taught. Before leaving he runs his fingers over the wood on the bar top: "I don't know if it's inherent in the human race, but I've never met anyone who doesn't love things made out of wood."
Posted by Ripon Media in College Days.