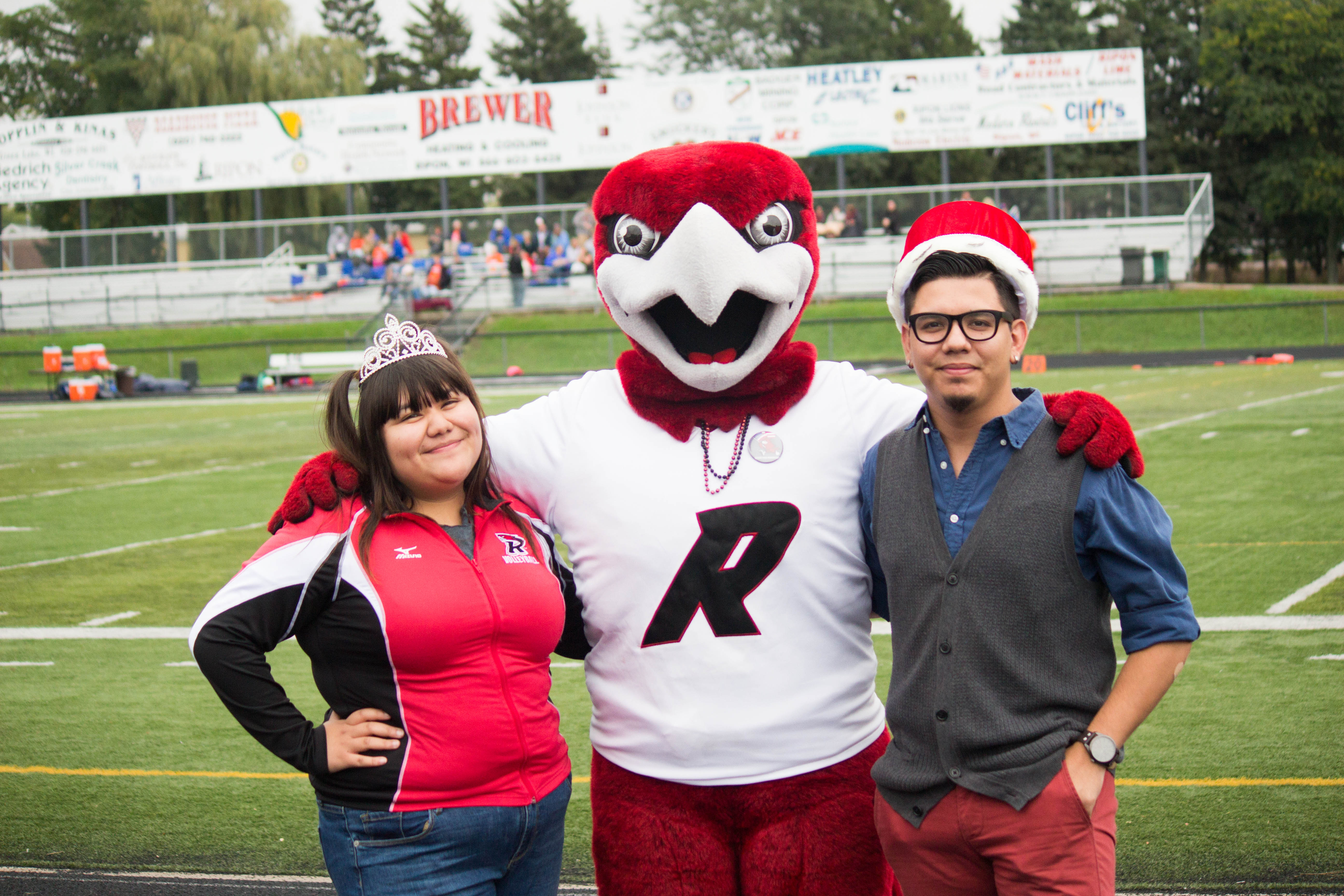 By Madeline VandenHouten
"I love high fives, hugs, any interaction with students and community members. I also love to take photos with people, even people who don't know who I am!"
Ever wonder what is it like to be Rally the Red Hawk? Rally recently sat down to discuss his time as the pump-up, feathered, spirit-flying friend.
"It's great to see how excited the community gets when I'm around. I love being able to attend all sorts of events. Being present at children's fairs, community festivals, and going to alumni events is so much fun and demonstrates Ripon's outreach. I love representing our school in a goofy, spirit filled way," Rally said.
Rally is a busy bird. One of his most times parts of the school year is actually in the fall. As soon as football season gets going, he never stops flying.
"Football games are my favorite. I think fall is a very busy time for Rally, and then when basketball picks up I'm busy again…My favorite way to pump up a crowd is by dancing. When the music plays, I hit the floor and bring out all the goofy moves." Rally said.
Rally is a hard-working, enthusiastic and dynamic bird. To be Rally, you must be very dramatic with your movements so that everybody knows what you're trying to say. Afterall, Rally never squawks in public.
"Remember that every action you do normally has to be five times bigger. If you wave, it can't just be your hand, it has to be all of you…Since nobody knows who is in the suit, there is so much freedom to be as goofy and fun as you want without judgment, because they see Rally as Rally. Also, DO NOT TALK IN THE SUIT. It's the golden rule of mascots!" Rally said.
"The ideal candidate is someone who has a great sense of humor, is playful and outgoing. Because of the size of the costume, the performer has to be at least 5′ 10″. 6′ to 6′ 2″ is ideal. Athleticism is a huge plus. It is a physically demanding job. Just wearing the costume can be exhausting, not to mention jumping, running and playing shenanigans. If you're going to be Rally, you can't take yourself too seriously. So you have to be a fun person," Ric Damm, Director of Creative and Social Media, explained.
Know someone is interested in being Rally? Reach out to Ric at [email protected].
Posted by Ripon Media in Uncategorized.