1st COVID-19 Case on Campus
By Deana Johnson
Ripon College had its first positive test for COVID-19 among the student body, according to President Zach Messitte's campus-wide email sent Thursday, Aug. 27. Only a day later, another student also tested positive for COVID-19. The first student returned home to quarantine there, reducing the risk on campus. 
"Contact tracing has begun and some students will be put into quarantine," Messitte said.
Concern has grown on the campus due to the "behavior of a number of students who attended social gatherings where physical distancing and mask requirements were not followed this past weekend. These students blatantly disregarded the public health situation, the college's regulations and have potentially put the safety of other students, faculty, staff and the community in jeopardy." Messitte said in his email to the campus.
While reminding students that they signed a pledge to help make Reunite Ripon possible, he also stated that new policies and consequences for failure to follow those policies will be enforced to ensure safety procedures are being upheld by students and staff.
"Effective immediately, students who host a gathering with room capacity violations and/or mask violations will be subject to suspension from the College and/or loss of co-curricular activity participation. Students in attendance at these events will also be subject to sanctions that include possible suspension and/or loss of co-curricular activity participation." Messitte said.
He then reminded students to watch the Ripon dashboard for weekly updates Mondays regarding the number of students with COVID-19 and which color phase the college is in, depending on the number of cases reported. The college has a three -color system: green being the "new normal" that is in place now, yellow allowing students to remain on campus but with stricter policies enforced, and red requiring students to return home for online instruction only.
The email also reminded students that even if they experience one COVID-like symptom listed on the Campus Clear app, they are required to stay in their room and call Campus Health Services for further instructions.
Follow the College Days for updates on this story as they become available.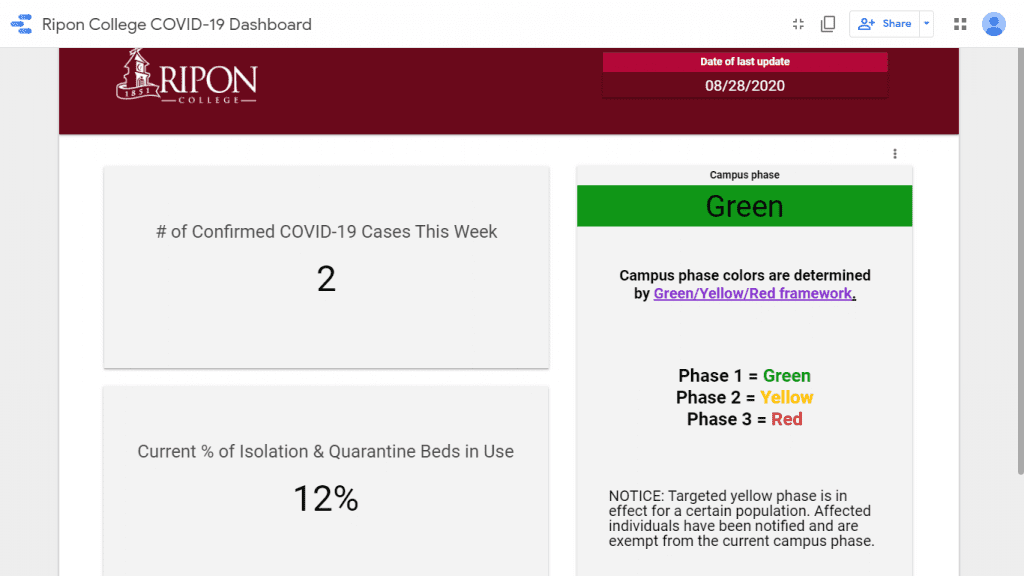 Posted by Ripon Media in College Days.