Student reactions to the switch on learning
How students feel about in-person, hybrid, and online learning.
By Deana Johnson
This semester Ripon College has made adjustments to the structure of courses offered, to ensure that students and faculty members are taking the necessary precautions to reduce the spread of COVID-19 on campus. 
Although some courses have remained traditional and are done in-person, others have gone completely online using the platform Zoom. Other courses that are not strictly in person or online are a hybrid mixture of the two, leaving students with very different experiences.
"I am taking five classes. One is completely online. The two language classes I am taking, Spanish and French, are completely in person. Catalyst and education are in person Monday and Friday but online on Wednesday," freshman Hannah Brockman said.
"I feel good about my classes. I like the way they are set up. I love being back in classes in person, however, I wish we did not have to wear masks during in-person classes. The hardest part of online learning is trying to figure out if someone else is going to talk. I like to stay unmuted so I do not have to remember to unmute when I want to talk," Hannah said.
Sophomore Emily Jacobchak said, "This semester I have two classes that are completely online, and two classes that are hybrid which is half online and half in person. The hardest thing that I've noticed with asynchronous hybrid classes [online classes that do not meet and require students to do classwork completely on their own time] is finding the motivation to set a schedule and stick with it so I don't get behind. I also find it to be quite difficult because it can get confusing when we are meeting in person versus online and what is due in both the online and in-person part of the class."
"The hardest part of my online classes is Cavas, because it can be disorganized because teachers put assignments in all sorts of different places and it is hard to keep track of what is due and when, and there always seems to be assignments that slip through the cracks. It is also hard to focus and get schoolwork done when we are contained in our dorms for most of the day," Jacobchak said.
Senior Hanan Majid shares a similar experience, adding, "I am taking three classes this semester. Two of them are online and the other one is in person. While virtual classes aren't really the first choice for college students, one can also understand how important is to take these steps. I do like the set up for the classes as the professors have tried to keep a balance on the workload."
When asked about what the hardest part of online learning is, Majid said, "The idea of not being physically present in the classroom does hurt my motivation to give my best, but while I adapt more to this system, I get better at it." 
Overall, due to Covid-19 precautions, students are experiencing a variety of class structures this semester.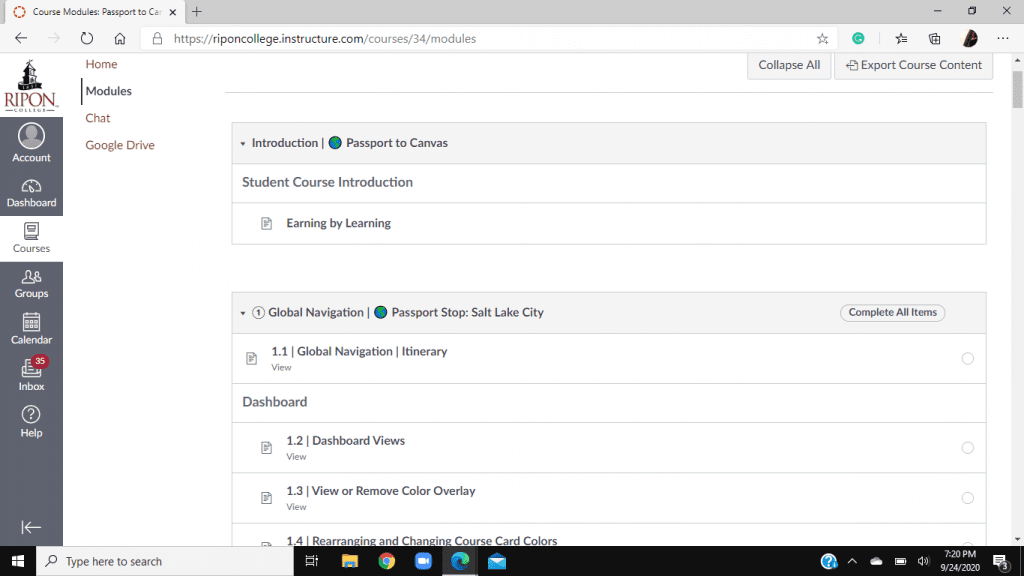 Posted by Ripon Media in College Days.