Healthy Wednesdays held in lieu of Spring Break
Some students express concern that it doesn't offer a true mental break
By Deana Johnson
Due to the Covid-19 pandemic, Ripon decided to cut out spring break this semester for fear of students traveling and spreading Covid-19 and replaced it with two Healthy Wednesdays. 
Healthy Wednesdays were designed to give students a break from classes, school work, and on-campus jobs, enabling them to take a day off in the middle of the week to focus on their mental health. Ripon College staff have worked to organize events during these days such as college-sunrise yoga, grocery bingo, make-your-own self-care package, and an event at which students essentially smashed the old washer machines to let out stress and frustration, followed by a scream circle.
Students had mixed reactions to this change of schedule, as they are grateful that they still have some sort of day to focus on themselves, yet not feeling like it is enough. 
"I understand that Ripon wanted to limit the risk of Covid, however, we are going through college during a global pandemic," sophomore Emily Jacobchak said."College is stressful as it is, not to mention having all this additional stress of getting mandatory tested every couple weeks, balancing online and hybrid classes, following all covid-precautions, and not having much as far as on-campus activities and events to distract and de-stress. Students have so much added stress to their plates, and having two Wednesdays is not enough for me to feel mentally OK, if anything we need a spring break as well as two healthy Wednesdays."
"For me, Healthy Wednesdays did not have the same mental benefits as a spring break generally would. Spring breaks are worry-free with no school work to focus on, allow me to get myself together and okay before completing the second half of the semester, and overall give me a chance to relax and focus on myself. The one day off in the middle of the week was not. I spent both healthy Wednesdays working on homework and studying because even though we had off of classes, I still had work for the rest of the week that didn't just go away." she added.
Junior Brianna Bembenek had similar concerns. 
"I do not believe that Healthy Wednesdays allow students sufficient time to completely relax while still succeeding on school work, especially when taking difficult classes," she said. "Giving students a day off in the middle of the week allows for assignments and exams to be scheduled around that date, indicating that we often have a large amount of school work to complete on that Wednesday. While it is nice to have a day solely devoted to homework, I do not believe that Healthy Wednesdays could be considered a full "mental health day."
Junior Mckenzie Schmidt said, "The biggest issue is that because it is in the middle of the week, there is still homework and studying that needs to be done. For example, this coming Healthy Wednesday, afterward I have an exam on Thursday and a tough quiz on Friday. This unfortunately means that I cannot spend the entire day for my benefit. I will have to start studying for the rest of the week." 
"It is nice to have something; however, I do not think two days is enough. The best part about spring break was that for most classes, it was after midterms, so there was not too much classwork to complete. This allowed us to have more time that we could spend however we needed to. I also appreciated the ability to go home and see my family. That is something that is better personally for my mental health over having a day off from classes." Schmidt said.
In regards to how to improve Healthy Wednesdays, sophomore Bryson Patterson offered a few suggestions. 
"To make it better, make it on a Friday or a Monday; that way, it really feels like a break or an extended weekend to relax. I get the point of not encouraging students to go home, but students do that anyway and an extra day at the start or end of the week will not change students' ideas to go home. I'd say add the three days of spring break would push us back in the summer and just give us the full spring break. It was a good idea on paper, but in practice, did not turn out well." 
"I feel that healthy Wednesdays are nice to have, but are not a good replacement for Spring Break, as I spend a lot of the day doing homework anyways. I believe they are somewhat beneficial and helpful for students mentally, but having the whole week off would be much more beneficial. I spent my last healthy Wednesday doing Yoga and smoothie then did homework. I think people will still be irritated with a healthy Wednesday because it does not do justice as a normal spring break would. Two healthy Wednesdays are better than nothing but it is nowhere near as good as a whole week off. The two days off were not enough for our mental health," junior Cassie Behreandt said.
"I would have definitely preferred a Spring Break in comparison to two separated Healthy Wednesdays. With Spring Break, you are given an entire week off to rest and recuperate fully, while also providing time to get ahead on homework without having to stress about future assignments that may be given later in the week. The time equivalent of two Healthy Wednesdays is additionally unequivalent in comparison to a Spring Break, where we received only two days off instead of the full five," Bembenek said.
As of March 31, Michelle Wittler said in an email that adjustments have been made to the fall 2021 calendar as Ripon plans to return to full in person, with a Monday-Tuesday fall break Oct. 11 and 12, and Thanksgiving break Wednesday-Friday, Nov. 24-26. Wittler reminded students that this schedule is tentative and may change as public health concerns of Covid-19 change.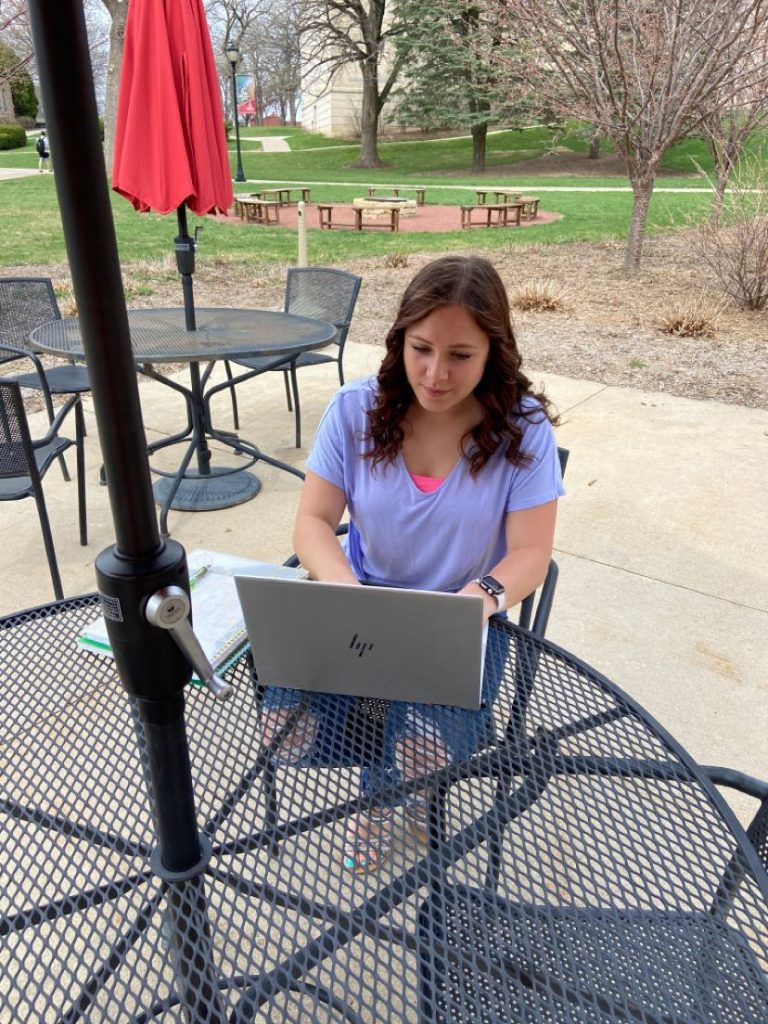 Posted by Ripon Media in College Days.