Ripon College holds a COVID-19 vaccine clinic for students and staff
Nearly 200 take advantage of vaccination opportunity
By Savannah Robinson
Ripon College offered an onsite vaccination clinic for students Tuesday, April 6 from 9 a.m. to 3 p.m. This provided registered students with the Johnson & Johnson one-dose covid vaccine.  The vaccine clinic was held in the Wilmore Center gymnasium, making it a walkable distance for all students living on campus. During the clinic, 184 students, staff, faculty, and spouses were given the vaccine shot. 
Junior Ben Wirth was among the 184 vaccinated.
"This was a quick in-and-out process," he said. "I filled out my information, sat down for 15 minutes to wait my turn, as I ate my granola bar. After I had gotten the shot, for most of the day I felt fine until night came and then I felt exhausted. Come Wednesday, I was restless for the whole day and I also had sore arms! The shot did make me feel off, but overall, it hopefully did its job! Thanks Ripon College."
Another student, junior Madelyn Pinnow, received the vaccine as well.
"I am currently a healthcare worker for the state of Wisconsin and I have been given the opportunity to revive the covid shot for working the front line," she said "I have had this opportunity to receive it since January but I have put it off due to school and other responsibilities that got in the way. Through the state, I would have needed to visit the county clinic in Fond du Lac. Being a full-time student with two jobs makes it difficult to schedule two appointments that work. I was about to schedule them regardless until I received the email from Christopher Ogle about covid shots available on campus."
"I was relieved because this way it was not blocked in my week where it impacted my daily life as a student. Luckily, I live in town and drove to the Willmore Center. The shots were given by three nurses in the gym. We were to sign a paper with our information then wait for an available nurse. The nurses were nice and gave all the information we needed to proceed. After receiving the shot we were to sit at a chair for fifteen minutes to be monitored. Once our 15 minutes were up, we could head out the back entrance. Walking out of the Willmore Center after the shot felt as if the world was changing for the better." Pinnow said.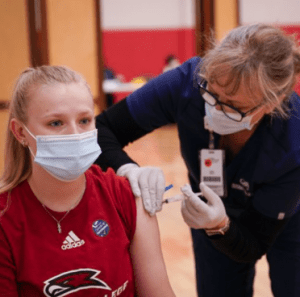 Posted by Ripon Media in College Days.