Anniversary of the Champions
Ripon College welcomes home the alumni from the championship football teams of 1996 and 2001
By Madelyn Kohn
The football stadium was crowded for another exciting home game. The Red Hawks won 31-13 against Cornell College for their third-straight victory to start the 2021 season. There were many winners in the stands as well, with the championship teams of 1996 and 2001  celebrating their 25th and 20th anniversaries by returning home to Ripon College to watch a great football game and reminisce in the memories.
Bill Schultz, a Ripon Athletics Hall of Fame inductee, moved back to Ripon with his family and is proud to be a part of the community again. 
"The atmosphere here is just tremendous. In the 90's, it was a football city. The college community really got behind the program and so now to see this, to see the team winning, it's pretty exciting," Schultz said.
With the football community rallying behind the Red Hawks, a new/old announcer was in the booth for the game. Josh Satzer, former wide receiver on the '96 championship team said, "Junior year of college, I started out by doing a women's basketball game.  The normal announcer was gone for a game and the women's coach, Julie Johnson said, 'Satzer I think you can do this.  Let's give it a try.' They were short-handed in the press box on Saturday so Bill Schultz, one of our teammates who lives in Ripon, called me up on Friday and said, 'study up Satzer, you're doing the broadcast on Saturday!'"
At halftime of the football game, the alumni were welcomed onto the football field to be recognized. Matt Kok, first-team All Midwest Conference on the offensive line in '96, expressed his appreciation for the chance to gather together as a team once again. "There is a core group of us guys that have gotten together every year for the last 25 years since we graduated. The best part is keeping Ripon friendships alive over the years," Kok said.
Another player on the 1996 championship team, first-team All Midwest Conference defensive back Andy Kohn, gave his input on the early success for the Red Hawk's football team this year. 
"It's halftime and we're up 21-7. We're rolling and looking very good. Hopefully this will be that tilt game and I hope that they can get a championship themselves so we can share memories in the future," he said
One of those memories that gets shared every year, according to Satzer, is "beating St. Norbert at St. Norbert in 1996, which was the first time a Ripon team had won at St. Norbert since 1982.  Eric Rich, our star quarterback, got his hand stepped on in the first half and busted it.  I was normally a wide receiver but had to step in and play quarterback for the rest of that game. Fortunately, it was Eric's non-throwing hand and they fitted him with a big cast he wore the rest of the year.  He could only hold the ball with one hand, but was still good enough to lead us to 3 more victories."
The game against Cornell was especially ironic for the team of '96, as this was the team that they beat to win the championship 25 years ago. Schultz shared these emotions as they once again saw their rivals on the field. 
"The third game of my senior season we played Cornell here during the regular season. That was after losing to them in the conference season the year before, and they beat us here on our turf. Fast forward to the end of the season, where both Cornell and Ripon ran the tables and played each other in the championship game here at Ingalls Field and as everyone knows, we ended up winning that game. To be back on campus, and to see the Rams here in town and watching Ripon have some success, it's pretty exciting," Schultz said.
The Red Hawks are having substantial success so far this season. The alumni were impressed, especially Satzer.
"This year's team looks good!  So many players," he said. I've never seen a Ripon team with 105 guys! Their quarterbacks are great athletes and that's important.  They also have a better passing game than they've had in years, so that will bode well for a lot of success! My prediction is that it will be a 9-1 season which would be a great accomplishment!"
Editors Notes: Andy Kohn is the father of the writer, Madelyn Kohn.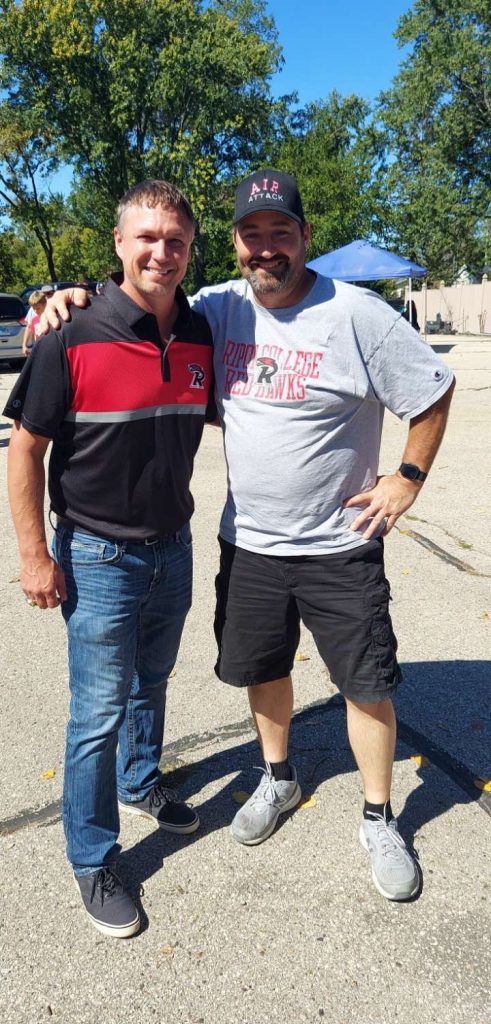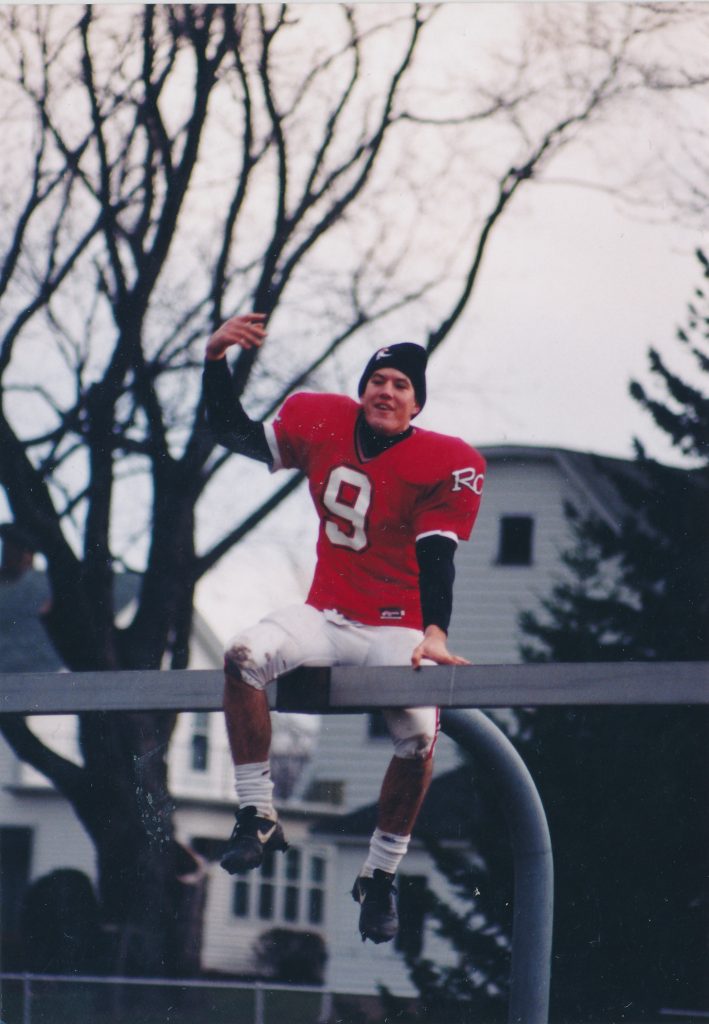 Posted by Ripon Media in College Days.