Campus to Scale Back Due to an Uptick in COVID-19
Due to a spike in Covid-19 on campus administration warns students of potential changes 
By Owen Greene
Ripon College President Zach Messitte sent an email to students and faculty earlier today, Sept. 24, regarding the current uptick of cases on campus and the precautions administration is considering to take to prevent the spread. 
According to the Ripon College dashboard, there were a total of 9 positive cases of Covid-19 on campus this week. Due to the concern of this spreading not only throughout the college community but also the Ripon community and the greater Fond du Lac County area, the campus has decided to take steps to mitigate the spread of this virus. 
The first step that Messitte laid out is that there will be some classes moving into bigger classroom settings to provide more room for social distance during lectures. He has also asked for the next couple of weeks to try and eat at specific lunch times similar to the plan the college used last year. 
Messitte concluded the email stating that 70% of the Ripon College student body is vaccinated and 90% of the staff, explaining that this will help to mitigate the virus. Messitte followed this by informing students of local places to get a vaccination.
Sara VanSteenbergen, the director of student activities, followed  Messitte's email saying how students should go about campus life in the next couple of weeks. Starting Monday, Sept. 27, Ripon College is asking students to take these steps on campus. 
The first is any campus social group, organization, or club is now advised to either meet online or somewhere where they can accommodate six feet of social distance. There will be a pause of all indoor programming until Oct. 13 including lounge parties. 
The commons will no longer have buffet-style food served to the students.  VanSteenbergen concluded that this has been a difficult time for many people so please don't hesitate to reach out to her or Mark Nicklaus with any questions you may have.
Stay tuned in to the College Days for more updates.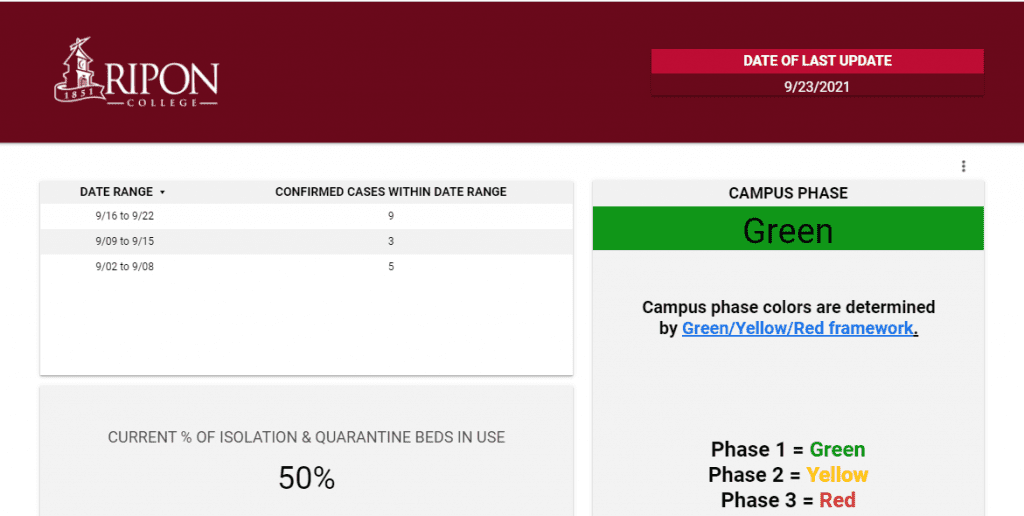 Posted by Ripon Media in College Days.