What's Cooking on Campus
Insights on the overall climate surrounding the dining experience on campus
By Owen Greene
In a recent email to the Ripon College community President Messitte addresses some of the concerns and rumblings around the campus stating that.
"Since fall 2020 Ripon College has contracted with SAGE Dining Services to provide food to our campus. Last year, SAGE went above and beyond to help the College through the pandemic, providing safe and healthy meal options for our students." 
He goes along to say that in the end. 
"Just like your favorite restaurants that are still being affected by labor shortages and supply chain disruptions, we ask for your patience as we continue to work with SAGE to deliver our dining program. We are confident that SAGE will do the best job possible to meet our expectations. Finally, please remember that the individual employees that work in the Commons and the Spot, making our food, cleaning our tables and taking out our trash, work hard and have earned our respect and deserve our gratitude."  
One of the issues that students see first hand is shared by Junior Blake Dobbratz saying that, "The biggest frustration I deal with personally due to all the short-staffing would be the closure of the sandwich station. The sandwich station for me as an individual has always a safe go to meal I could look forward to and know I am making a healthy choice." 
Students have also been frustrated by the lack of service at the commons and the Spot. 
"I felt like the most frustrating experience was more at the beginning of the year when none of the drinks were filled and it was just carbonated water," Freshman Colin Schueler said.
These issues are noticed by the Sage staff not only including the workers at this institution but also throughout the Sage leadership.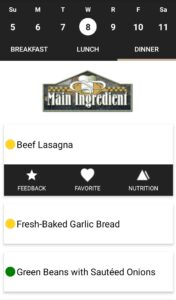 "I am aware of the issues that we have been having at Ripon College, as well as across Sage as a company," said Scott Dahlin, district manager for Sage in the Midwest. "I understand that the food options and service has not been what we have expected from ourselves as a company and also what you have come to expect from us." 
"Overall there are many issues that we have dealt with on campus. Let alone from the Covid perspective and the hardships they have caused to  staffing issues on campus as well as to the supply chain and products." Dahlin said."We have also dealt with a dishwasher that broke down as well, along with fifteen staff members leaving Sage before the semester really started to kick off." 
Head Chef Alexander Cousineau has dealt with this first-hand when dealing with all of the supply chain backup throughout the country. He has compiled a stockpile of Gatorade for the Spot and other areas on campus but that is quickly depleting other than the red Gatorades, which he can only get in at the moment. 
"I have tried this whole week to get our monterey jack cheese mix in and it is unavailable, so I decided to just get cheddar in the last type of cheese we can get in which is just cheddar cheese, and as of today it still hasn't shown up on the food truck," he said.
Some students have seen the work that Sage is trying to put in and the improvements that are coming along way. Senior Madeline Seiler, said that her overall opinion was "Pretty positive, it was good that they were able to keep it open for longer than they anticipated and provide us with some food options." 
There still have been hardships for the students though, such as for sophomore Sam Kobylski.
"Overall, the main thing that was inconvenient for myself and others in regards to Sage was the early closures at the spot when they were short staffed. It was difficult because many students have sports practices and/or night classes, so they weren't able to make it to the Commons nor the Spot due to it closing," Kobylski said.
This has been a concern noticed by the Sage staff. 
"The Spot will be open for full operational hours as of last Friday this is not only due to the large number of student athletes on campus but also due to the lack of late night food around campus," Cousineau said. 
In the end the school and Sage have heard these concerns overall but Junior Blake Dobbratz stated that "I feel like the school and Sage should be able to hear more voices and feedback from the students who eat their food. I would love to see the school and sage have a survey of food choices, this will allow for students to have more of a say/choice."
Students are able to "go into the Sage app and can access comments on food choices, as well as rating how much they like or dislike the meal. Another feature that the app includes are filters that can reflect your dietary restrictions." Dahlin said. 
Sage is continuing to make improvements to provide students with more meal options and more accomidable hours of operation. Students are encouraged to provide feedback on the Sage app or to administration. 
Students with questions or employment inquiries may reach out to Dahlin at [email protected].
Posted by Ripon Media in College Days.